Our Campscape is blessed with a new temperature-controlled salt water pool with waterfall (open april – oktober). And in the vicinity of our estate you'll find several (river) swimming pools and reservoirs to cool down and relax.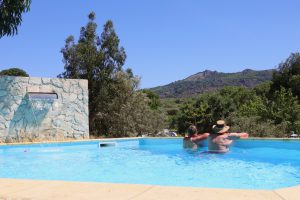 Enjoy our new salt waterpool with waterfall under the big eucalyptus trees. From the pool you have a wonderful view of the castle of Marvao, high up on the rocks.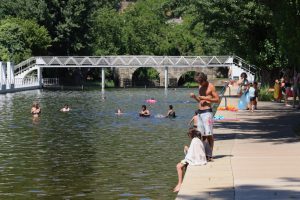 In Portagem and Castelo de Vide you can visit large open air swimming pools. The one in Portagem is combined with the free natural swimming pool in the the river Sever. In Santo Antonio das Areias you'll find an indoor swimming pool during the colder months of the year.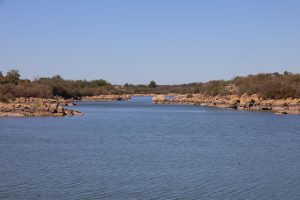 Those who like to swim, sunbath or enjoy (unmotorised) watersports in a more natural environment can visit the lakes/reservoirs Baragem da Apartadura (10 km) and Baragem da Póvoa e Meadas (20 km).
Baragem da Povoa e Meadas is our favourite, with many small beaches and wonderful viewing points. Find your own private beach! In the vicinity of this lake you'll also find some prehistoric Anta's and Menhirs. Amongst them the biggest of Portugal: Menir de Meada.